This article is 10 years old. It was published on June 1, 2012.
The Department of Human Services of the City of St.  Louis administers and coordinates funding and services of five divisions including Homeless Services, Office on the Disabled, St. Louis Area Agency on Aging (SLAAA), Veterans Affairs and Youth & Family Services.  In that capacity the Department often plays a lead role in assessing and determining social service needs in the community, providing resources for program development and facilitation of the delivery of social services to city residents.  Funding sources include city, state and federal grants along with grants from foundations and other organizations. Direct services are limited to case management and information and referral as most service delivery is outsourced via contracts to other public, not-for-profit and private social service agencies.  The Department has a long and successful history of fiscal management including contract negotiations, reimbursement for services, monitoring of contracts and data collection for compliance and evaluation purposes.  Currently, nearly 100 contracts are being administered by the Department covering a wide range of social services.
 At the encouragement and direction of Mayor Francis G. Slay on taking office in 2001, the Department of Human Services aggressively took on a leadership role in all aspects of social service programs beginning with their facilitation of five Mayor's Summits on Social Services.  Attended by more than 1,000 participants, these summits developed strategic plans addressing the needs of the disabled, the elderly, the homeless, ex-offenders and children and youth.  In recent years, the Department has been recognized on many occasions for its achievements including being described by the state auditor as the best run department or office encountered in the most recent audit of the City of St. Louis.  Just a sampling of accomplishments includes national awards for outreach efforts to expand children participating in the Summer Meal Program, national awards for programs and leadership on the issue of reentry of ex-offenders, implementation of the 10-Year Plan to End Chronic Homelessness resulting in a 30% reduction in the number of homeless people in the city, development of more than 300 units of permanent supportive housing, and now the FOCUS St. Louis "What's Right with the Region" Award for the Special Needs Registry, a life saving measure developed by the Department. A truly noteworthy record of achievement spanning the last 10 years!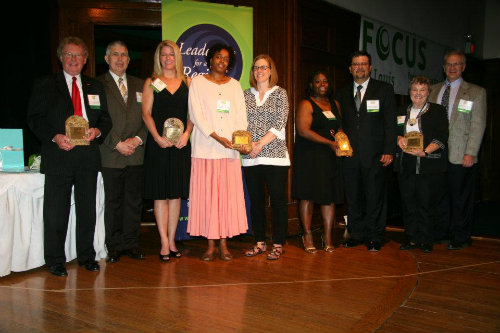 Pictured are (from left) Bill Siedhoff, Director, Department of Human Services; David Sykora, Program Manager, St. Louis Area Agency on Aging; and other recipients of FOCUS St. Louis' "What's Right With The Region" award "Demonstrating Innovative Solutions" category. (Photo by Black Tie St. Louis)
Department of Human Services
City of St. Louis

Department:


Department of Human Services


Topic: