Street Cleaning-Sweeping
Street Cleaning/Sweeping Operations, Area Map and Schedule
On This Page
Overview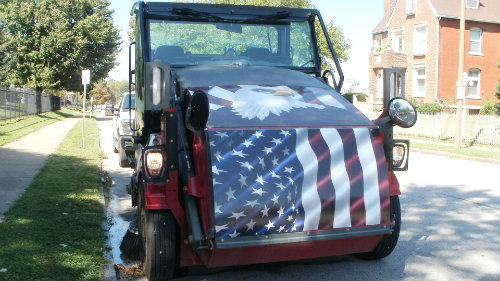 The City of St. Louis has one of the most robust street cleaning programs in the United States with 1,100 miles of roads swept monthly. Street Division sweepers clean the curb line of most residential streets once a month. High traffic areas such as downtown are swept nightly. 
Download the Street Cleaning and Leaf Pickup Flyer.
Preparation
Please check the No Parking signs on your street for regularly scheduled street cleaning days and times. If your street does not have No Parking signs, please review the Street Cleaning Area map and schedule.
Instructions
What To Do With Your Vehicle on Street Cleaning Days
Please be aware of the street cleaning days and times where you live and work, and plan to move your car during those times so that the entire street can be cleaned from corner to corner. Please encourage your neighbors to move their cars on street cleaning days.
What To Do With Leaves From Your Yard
Please put leaves from your yard in paper yard waste bags, place them in the tree-lawn, and call the Citizens' Service Bureau at 622-4800 to request bagged leaf pickup.
Begin online Call 314-622-4800
Fees
Vehicles parked in No Parking areas during street cleaning times will be ticketed. You must not park contrary to the street cleaning hours. You may still be ticketed even if the sweeper has already passed by.  Tickets are issued by the Treasurer's Office and not the Street Department. For information about paying or disputing a ticket, please contact the Treasurer's Parking Violation Bureau or call 450-2830 or (800) 611-3009.
What to Expect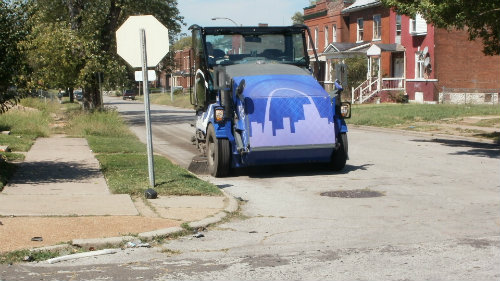 During the posted times, a street sweeper will drive along the curb lane and pick up debris in the street. The sweeper driver attempts to get as close to the curb as possible. Depending on the quantity of leaves, specialized equipment may be used that collects leaves and turns them into mulch, which then can be used for compost. If the quantities are less, a street sweeper may be the only equipment needed. In both cases, a street sweeper will be the last equipment used to make sure that the street is as clean as possible.

Additional Information
When To Call The Citizens' Service Bureau
For the following issues, please call the Citizens' Service Bureau at 622-4800:
To request bagged leaf pickup.
If your street was scheduled for street cleaning and you do not believe that it was swept.
If there are cars parked on your street that haven't moved since the last street cleaning day.
If you notice any other City-related issues like potholes, street lights out or trees that need trimming.
Contact
Department of Streets
(314) 647-3111
1900 Hampton
St. Louis, Mo 63139
Monday thru Friday, 8:00 - 4:30