St. Louis Dockless Bike Share
City of St. Louis Dockless bike share program information for bikes, e-bikes, scooters, e-scooters, and other small vehicles
About Dockless Bike Share in St. Louis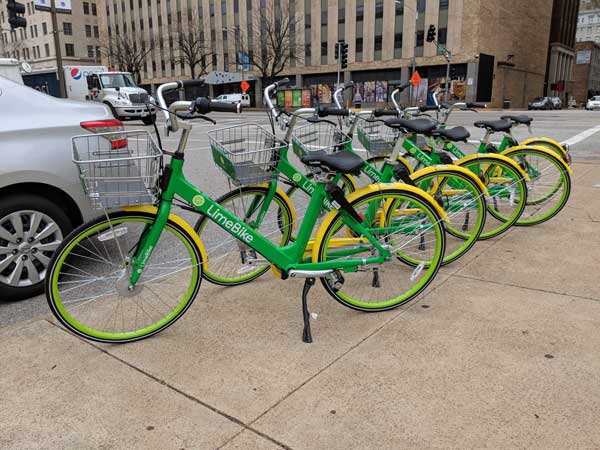 The City of St. Louis has started a dockless bike share permit program. This program comes after several years of work by regional entities to bring bike share to the region.
Great Rivers Greenway produced  bike share feasibility study and implementation plan in 2014, and Bi-State Development led the St. Louis Bike Share Working Group in continuing that effort in 2017.
Following the innovation in the bike share industry toward dockless bike share, the Bike Share Working Group shifted focus from funding a traditional station-based system, to helping the City of St. Louis prepare a dockless bike share permit program that would allow private companies to operate in St. Louis at no cost to the City.
Dockless bike share doesn't use stations like the traditional systems in Chicago or Washington, D.C. Instead, you can find the bikes through GPS locators on a smart phone app or by calling a phone number, and they lock to themselves by clamping the back wheel, allowing the bikes to be more widely available throughout the city.
The bikes & Scooters can be parked on the strip of sidewalk between the walking area and the street, and at public bike racks. They cost around $1 for 30 or 60 minutes, with discounts for people of low income and students. More than 25 cities around the U.S. have implemented dockless bike sharing, including Washington, DC, Durham, NC, Seattle, WA, and Dallas, TX.
Working With the Board of Aldermen
The City of St. Louis' Board of Alderman approved an ordinance allowing the City to permit bike share companies to operate in the City. View the permit requirements here. The permit regulates the companies to make sure they keep our community orderly and extend the opportunity of using bike share throughout the city.
The City received permit applications from two companies: ofo and LimeBike. Following a launch event on April 16, 2018, LimeBike and ofo brought 750 units each to St. Louis for the first month of operation. They can expand by 350 units each per month until they reach a cap of 2,500 units each.
This program is intended to benefit all St. Louis residents, workers, and visitors. The companies are required to have non-smart phone and cash payment options, and area also required to keep 20% of the unites available in target neighborhoods that can especially benefit from an additional, affordable transportation option.
Those neighborhoods are to the north between Delmar and Natural Bridge, and in the Dutchtown South area – you can find a map in the permit requirements.
Cities across the country are creating permit programs like this to bring dockless bike share to their city at no cost and using no tax payer dollars, while still allowing regulation to maintain order and help achieve the cities' goals. The benefits communities are seeing range from increases in bike and scooter ridership, connections to transit, access to local businesses, and healthier lifestyles.
More Information
For more information on the St. Louis bike share program, visit www.stlbikeshare.org. For more information or to sign up for bike share, please visit LimeBike website: www.limebike.com;  If you have any issues with the bikes and scooters being parked incorrectly or being broken, please contact the appropriate company:
If you have questions about the City permit program and process, please contact Deanna Venker,Commissioner of Traffic, venkerd@stlouis-mo.gov ; 314-647-3111.