St. Louis Port Authority
The Port Authority of the City of St. Louis supports economic development in the City's 6,000-acre Port District, which lies along the City's 19 miles of Mississippi River frontage. In addition to managing leases for City-owned property in this area, the Authority works with shipping stakeholders across the bi-state area to promote regional commerce.
Contact Info
Phone: (314) 657-3740
Address:
1520 Market Street
Suite 2000
Hours:

Director of Port Development
Works with long-term operator of the City's Municipal River Terminal (MRT) to increase throughput and promote creation of value-added economic opportunities from that throughput.
Upgrades existing and develops new leases for City-owned property in the Port District to maintain port revenues.
Creates new and participates in ongoing redevelopment projects across the Port District.
Meets regularly with state and federal agencies and others to develop port infrastructure funding and expedite river-borne commerce.
Plans and manages MRT construction projects; coordinates engineering participation of City's Board of Public Service.
Attends and staffs the Mayor at Mississippi River Cities and Towns Initiative events.
Manages Port Working Group, which meets bi-monthly to promote regional shipping; approximately 45 area stakeholders attend; this group transitioning to Regional Freight Authority (www.thefreightway.com) management.
Working with Inland Rivers Ports & Terminals to develop Certified Port Executive training curriculum.
Port Operations Manager
Nick Nichols, 314.657.3744, nicholsn@stlouis-mo.gov
Processes lease agreements and renewals for City-owned property in the Port District, working with the Port Authority Commission and the City's Board of Alderman as needed.
Coordinates cruiseboat permits for up to 3-day mooring privileges with the Director of the City's Street Department.
Prepares documents required for monthly meetings of the Port Authority Commission.
Current Projects by SLDC and the St. Louis Port Authority
Municipal River Terminal Rail Improvements: Engineering Contract, 2016
Project Scope: technical plans/specs for site grading and drainage plan, floodwall gate improvements
Project Schedule: engineering contract now being negotiated
Municipal River Terminal Rail Access Plan, 2016
Project Cost: $43,567
Engineer: Design Nine
Notice-to-Proceed issued 8/26/16
Request for Qualifications for Marine Consultants, 2016
created prequalified list of professional-service firms for law, engineering, and real estate development
river-based experience required
Warehouse Upgrade Project, 2016
Project Cost: $466K
Contractor: Raineri Construction
Notice-to-Proceed issued 3/24/16
Fleeting Areas
View of south riverfront looking north.  From St. Louis, 30-45 barge tows operate downstream and 15-or-fewer barge tows operate upstream.  Fleeting areas, like barge parking lots, allow tows to be reconfigured, depending upon origin and destination of goods.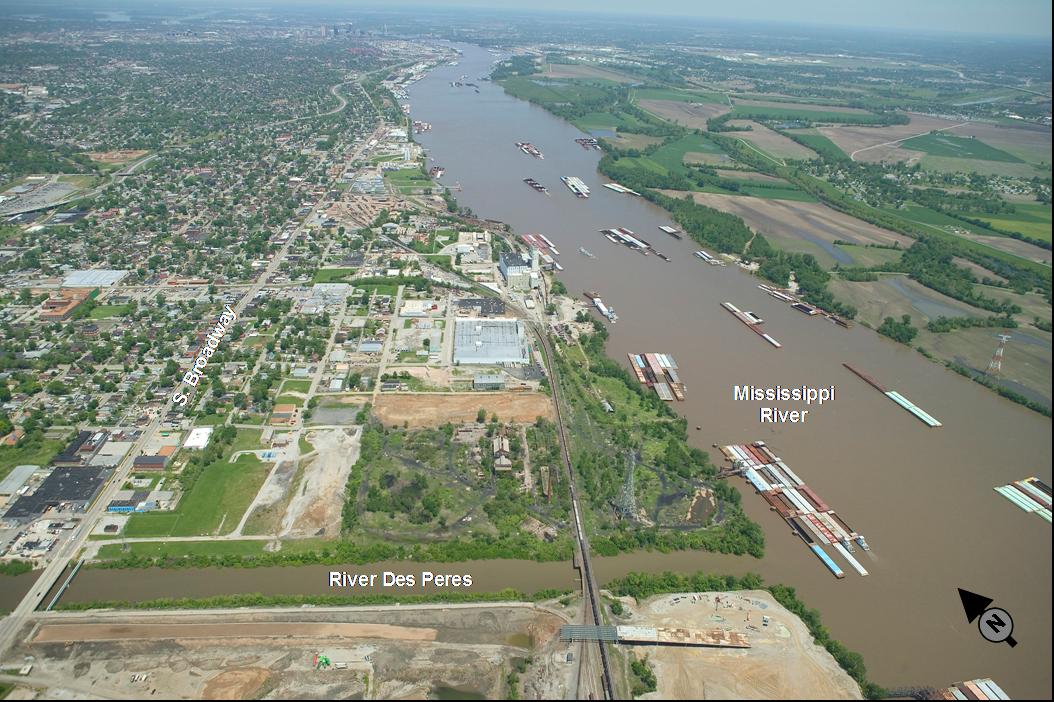 St. Louis Port Authority Menu
| | |
| --- | --- |
| Name: | Port Authority Commission of the City of St. Louis |
| Phone: | 13146573740 |
| Toll Free Phone: | |
| TTY Phone: | |
| Other Phone: | |
| Other Phone Label: | |
| Fax: | |
| Contact Email: | taylors@stlouis-mo.gov |
| Address 1: | 1520 Market Street |
| Address 2: | Suite 2000 |
| Contact City: | St. Louis |
| Contact State: | Missouri |
| Contact Zip: | 63103 |
| Directions: | |
| Hours of operation: | |
| External URL: | |
| Facebook URL: | |
| Twitter URL: | |
| LinkedIn URL: | |
| Nixle URL: | |
| Logo: | |
| Public Meeting Accessibility Information: | |