This article is 3 years old. It was published on May 8, 2017.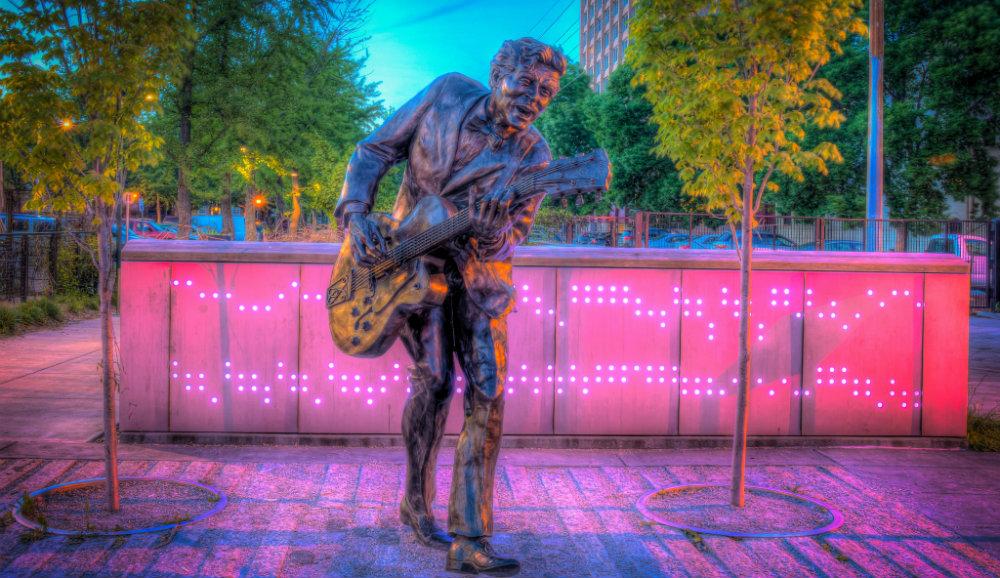 Did you know that rock and roll was born in St. Louis?
Well, it was. It was born at 3137 Whittier Street in the Ville Neighborhood!
There are fewer more well-known and influential guitarists than Chuck Berry. His words, music, and lifestyle have shaped the rock and roll genre as we know it today. And his name is about as "St. Louis" as toasted ravioli, ooey gooey butter cake, or provel cheese. Born in the Ville Neighborhood of the City of St. Louis, Berry had a variety of interests including carpentry, photography, and singing in the choir; however, after singing the blues with a guitar accompanist during a talent show at Sumner High School, he committed to learning to play the guitar and eventually learned from local jazz guitarist, Ira Harris. As his local fame expanded in 1952, he joined jazz pianist Jonnie Johnson's band, the Sir John Trio. It was at this point that many believe Johnson and Berry fused rhythm and blues with country and western music to create rock and roll.
Berry was back and forth between St. Louis and Chicago in the early 1950's, living on Whittier Street and associating with other greats, like Muddy Waters. In 1956, he constructed an addition (presumably to free up space for practicing and writing) and the house remained his home until 1958. It was at 3137 Whittier Street in the Ville where Berry wrote and recorded some of his most famous works, including "Maybelline", "Roll Over Beethoven", "Too Much Monkey Business", "Rock and Roll Music", "School Day", "Sweet Little Sixteen", and "Johnny B. Goode". This house and the Ville Neighborhood are – in essence – the birthplace of modern rock and roll as we know it!
In the early 1900's, The Ville was of the few areas of St. Louis where African-Americans could own property. By the 1930's – around the time of Berry's birth, it had become the cradle of culture for Black St. Louis. The neighborhood attracted major Black figures in a number of fields, and produced a disproportionate number of individuals who went on to achieve world-wide recognition, including Tina Turner, Dick Gregory, Arthur Ashe, Annie Malone, and Josephine Baker.
Today, the area still has many important historic and cultural assets like Sumner High School and Homer G. Phillips Hospital. More recently and further south, Delmar Boulevard, often described as the "Delmar Divide", is home to both Blueberry Hill (where Chuck Berry played till he passed away) and the Scott Joplin House. At the same time, the recent success and investment in the National Blues Museum has positioned St. Louis at the center of a cultural hub. And though Chuck Berry is only piece of this story, his home in the Ville remains a critical link to City's musical history.
The City believes that the 3137 Whittier Avenue property and the investment potential surrounding the house offer the City an opportunity to think big about how the redevelopment can preserve Berry's legacy, while at the same serve as a catalyst for neighborhood revitalization and cultural tourism. Moreover, the property is also located only two blocks away from Fair Station, which is located on the region's planned north/south MetroLink alignment. This adjacency further offers the opportunity for improvements to enhance the museum experience, and establish a destination and identity for the future station area as the same time. At the core of this request, the City is seeking proposals to establish a destination museum experience and transit-oriented community anchor that will catalyze housing investment and foster connections to our City's cultural and music heritage.
In order to accomplish this strategy, LCRA is issuing an RFP seeking qualified, multi-disciplinary, asset-backed, development teams (consisting of financiers, museum operators, developers, architects, planners, exhibit designers, cultural anthropologists, etc.) who will contract to purchase the Property from LRA, enter into a redevelopment agreement with LCRA, and redevelop the Property according to the requirements contained in this RFP; as well as collaborate with SLDC to revitalize the surrounding area through the use of a community improvement district and community benefits agreement.
Department:


Land Clearance for Redevelopment Authority
Land Reutilization Authority