This article is 5 years old. It was published on April 12, 2016.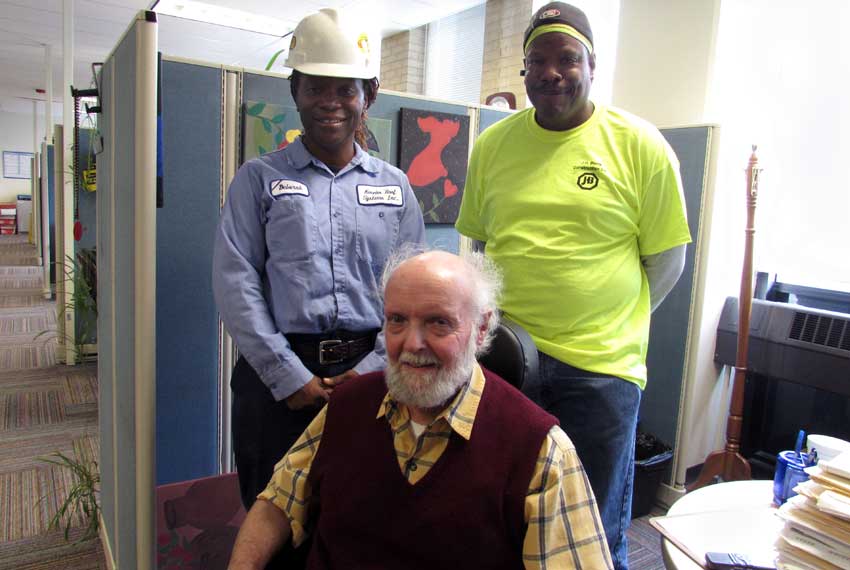 Armand Paulet, SLATE's Construction Trades Liaison, has been an invaluable resource within our organization and for countless customers. For decades, he has helped guide jobseekers into one of many building trades. Armand's depth of knowledge and expertise has helped them successfully navigate the voyage from apprenticeship to journeyman as part of organized labor.
Recently, two SLATE customers, both native St. Louisans, who have recently attained journeyman status visited our American Job Center to speak with Armand and SLATE Update staff about their experiences. Dèborah Chunn, mother of three, previously worked as a small business owner, operating a restaurant and a child day care center. Economic conditions caused both of these enterprises to struggle;as Dèborahexplored new career options in 2012 a SLU classmate recommended that she visit SLATE. Haasim Waheed was at one point an electrical contractor but moved on due to lack of work at that time, he was employed a TV-Appliance store for a number of years while keeping in touch with Armand and waiting for an opportunity to reenter the building trades, and opportunity which arose in 2011.
Dèborahbegan her three year apprenticeship with Gateway roofing;she soon transitioned to Kmeier Roofing Systems, Inc. and has been a Journeyman for 8 months now. Roofing can be physically demanding work, but she enjoys the ability to create or improve something with her own hands. "SLATE helped me find a new direction," Dèborahtold us. "I particularly like the fact that I can earn a living now anywhere in the USA."
Haasim's apprenticeship, also three years in length, involved training at an on-campus simulated worksite where he could practice everything he learned in the classroom in a very hands-on way. "I loved the different challenges, working together with my teammates to get the job done and the ability to learn new things," Haasim says. "It's important to love what you do;by the end [of my training] employers were fighting over me!"
Armand Paulet works closely with union apprenticeship coordinators to make sure that those he recruits, like Dèborahand Haasim, are good matches for particular trades. He emphasizes the unique benefits that this career path can offer: "It's hard to find anything that pays you to learn, and the building trades do that. You can make a living while you pick up your trade;and you can also earn college credit."
Even after letters of intent are offered and the apprenticeships begin, Armand is always available as a mentor, helping customers stay on track, overcome obstacles, and eventually attain journeyman status. They consider Armand to not only be a career coach, but also a personal friend. "I give credit where it's due to this guy [Armand]," says Hasim. "He kept his word, was always there for me, and guided me through."
Dan Knight, Apprentice Coordinator for Roofers Local No. 2, has routinely been impressed by the candidates SLATE sends his way. Of Dèborah, Mr. Knight writes that she is "an exemplary apprentice. She applied herself very well to her craft with enormous dedication." Greg Jones, Coordinator for the Laborers Joint Apprenticeship Program, is equally enthusiastic about Haasim, stating that "he has an outstanding work ethic, and is consistently impressive."
SLATE will continue to work with various unions to increase organized labor diversity across the St. Louis region, and looks forward to many more success stories like those above. Dèborah summed up the feelings of many when she said, "SLATE is a great community resource –I will definitely recommend it to friends and family."
Department:


St. Louis Agency on Training and Employment