This article is 5 years old. It was published on March 14, 2016.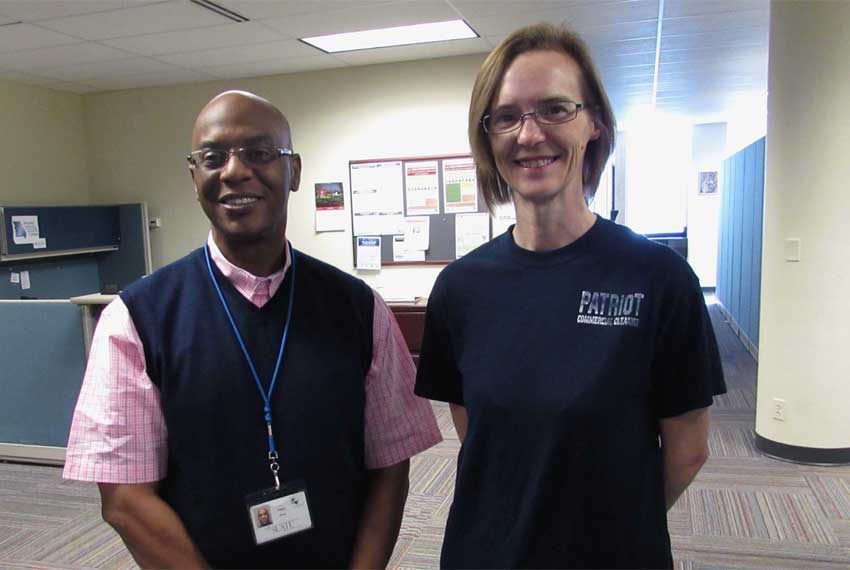 Laura Pearson wasn't prepared when early this year she was suddenly let go from her dream job caring for the elderly, a position she had held for the last two years. Never being unemployed, she wasn't sure how to collect unemployment or look for a new full time position. Even her ability to hold on to her apartment was in question, and Laura had previously endured homelessness before building a new life for herself.
Laura decided that she would go back to becoming a CNA nurse. 19 years ago she had taken her CNA class before joining the military, and since then she had held various jobs, but nursing remained near and dear to her heart.
She researched CNA training schools and found one funded through WIOA, which required an assessment and a placement test done at her local American Job Center, bringing her to SLATE. On her last day of testing, SLATE staff told Laura about having a Veteran Representative, who could possibly help with employment.
"I didn't know I could talk to a Veteran Representative. I didn't know veterans could get priority of service," she said. Laura met Rodney Hearn, Disabled Veterans Outreach Program (DVOP) Specialist at SLATE, in February of 2016. "Rodney, I really need a job. I have to have a job!" were her first words.
When Laura joined the Navy in 1999, it made complete sense. She followed the footsteps of her father and grandfather and was enlisted as a ceremonial guard. For the next 14 months, she travelled extensively as part of the high profile team that conducted ceremonies at such national landmarks as the White House, the Pentagon, and Arlington National Cemetery.
Since she was honorably discharged in 2000, Laura was always looking for ways to get back to nursing. "I knew from high school that my career was going to be nursing," she said. At that early age, Laura was taking CNA classes so she could take care for her elderly grandfather. "Nursing is all about people. As a nurse, you have to have a heart . . . patients, they become a family [to you] and you are like a family to them," she said.
Laura's goal is to become a Pediatric Nurse or a Registered Nurse who works with kids from abusive families. Eventually, she said, she would like to run a child care Center from her house, big enough to help two or three teen mothers without support to get back on their feet. "It's rough out there when you are a teen mother or pregnant (I myself was one), and especially if you know that there is nobody who is there for you. Then you have nobody to watch your child for you while you're going to interviews," she told us.
At SLATE, Laura was able to take the first step in making her dream come true, and qualified for funding applied to CNA training. The same day she met with Rodney, she was interviewed by Patriot Commercial Cleaning, a business owner who only hires veterans to work on such properties as schools, nursing homes, and doctor offices. Three hours later Laura had a job offer which she gratefully accepted. "I work at the St. Mary Magdalene Catholic School. The teachers [already] got used to me and the kids love to have me there;they come and show me stuff they made," she said.
Laura is scheduled to start her CNA class on March 30, which she'll complete in 12 weeks. Once she obtains her CNA certificate, Laura will be looking for a full time nursing position, but plans to continue working for Patriot Commercial Cleaning at night.
Laura's experience has helped change the trajectory of her life, and she will make every effort to stay in touch with SLATE and Rodney. She even wants to assist SLATE to reach out to veterans at her church: "We have a lot of veterans who come for meals . . .they need to hear about the services that are available!"
Department:


St. Louis Agency on Training and Employment