This article is 4 years old. It was published on July 21, 2016.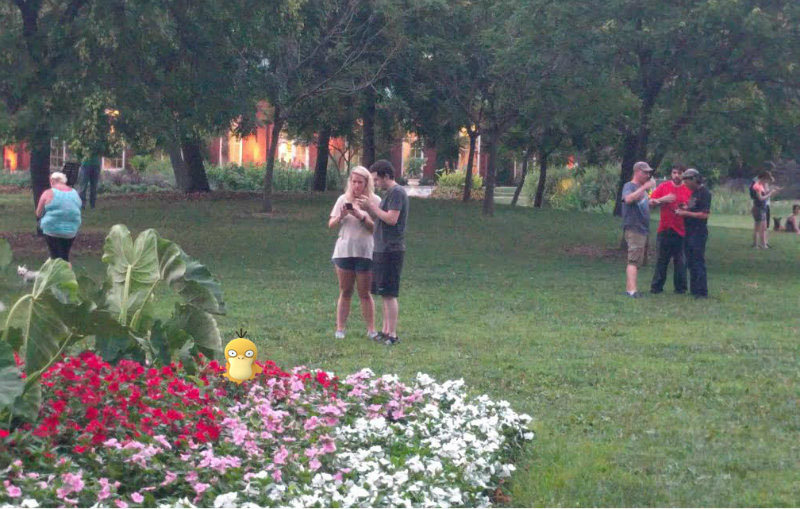 Ready, Set, Pokémon Go! 
St. Louis gamers are hooked on the latest mobile gaming app known as, "Pokémon Go!" With mobile devices in-hand, people of all ages are walking out their front doors to find, capture or battle animated creatures known as Pokémon.
The mobile gaming app has garnered a record number of players worldwide in just a few short weeks since the U.S. launch on July 6. Since then, news sources alternate between stories of accidents, injuries and other safety concerns caused by distracted players; and stories touting the benefits of the game, such as being active, making friends and using the game for charity.
Either way, Pokémon Go has caused a stir, and it is no wonder. The free-to-play mobile app uses a clever combination of GPS and augmented reality to overlay virtual characters and images into real life settings. It is intensely engaging, and that makes it likely that Pokémon Go will be around for a while.
The Perfect Storm
The combination of increased foot traffic in public areas, the excitement of such an engaging game, and the distraction of using mobile devices can create a perfect storm for accidents to happen. Gamers themselves have offered warnings about staying aware of one's surroundings while playing the game.
St. Louis City Parks, landmarks and public spaces are excellent locations for residents to gather together and enjoy the community. However, the safety of all residents, including mobile gamers, is our first concern.
Considerations from Other Gamers
While most gamers are mindful of their surroundings and play the game safely, there is some validity to the concern over being distracted near traffic.
For example, a Minnesota man tried to play the game while driving and crashed his car into a tree. One young gamer in New York City's Central Park told news sources that he'd almost been hit by buses, trucks and a Prius while being distracted by the game. In California, two men tumbled off a cliff and sustained serious injuries while searching for Pokémon. You can't make this stuff up!
So, we scoured the internet for tips from other gamers about how to stay safe while playing Pokémon Go! Here are some of their recommendations:
Awareness: Be aware of your surroundings at all times.
Crosswalks: Always use crosswalks when walking. Watch for pedestrians when driving.
Distractions: Accidents happen when people are distracted.
Driving: Never drive or operate a vehicle while using a mobile device.
Groups: Travel in pairs or groups, and assign someone to watch for dangers.
Heat: Avoid extended periods of time outdoors during excessive heat.
Hydrate: Drink plenty of water when out and about in the heat.
Intuition: Avoid any area or situation that looks or feels as though it may be unsafe.
Laws: Obey all ordinances, street signs, warnings and laws.
Litter: Don't litter or discard items along your walk.
Property: Never damage, alter, trespass or loiter on or near private property.
Right-of-ways: Avoid blocking right-of-ways, foot/bike paths, sidewalks, streets, driveways, alleys or entrances to businesses and homes.
Authorities: Contact local authorities to report any illegal, threatening or nuisance behavior to avoid confrontations or dangerous situations.
Other: Awareness, consideration and kindness go a long way in all situations.
National Night Out and Pokémon Go
National Night Out (NNO) in St. Louis being held on August 2, 2016, and Pokémon Go seems to lend itself to the spirit of NNO events. As an outdoor activity, mobile gaming may be a great way to get to know neighbors.
The City of St. Louis encourages residents to consider mobile gaming safety with NNO in mind. NNO was created to raise awareness of crime prevention in communities by encouraging neighbors to be outside, meet each other and get involved with their communities.
Neighborhoods who registered before the deadline may qualify to have their block closed by the Streets Department. Otherwise, residents should be careful not to block right-of-ways and should always exercise caution when crossing public streets, along sidewalks and in parks.
No one should have a fun day cut short by a preventable accident.
Department:


Neighborhood Stabilization Team