This article is 4 years old. It was published on June 28, 2016.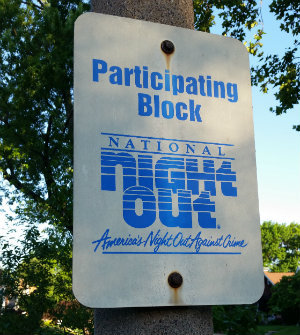 For more than three decades, neighborhoods across the city of St. Louis have embraced the spirit and tradition of National Night Out (NNO).  
The Night Out movement started in 1984 as a way to help communities across the country partner with each other and local law enforcement to take a stand against crime. The St. Louis community quickly made National Night Out a highly anticipated annual event.
Even today, residents may notice an occasional street sign from the early days of National Night Out proudly announcing the neighborhood as a participating block. While the street signs may be from the past, the enthusiasm for National Night Out is alive and well today with a new generation of city residents.
2017 Neighborhood Registration
This year, National Night Out Against Crime and Drugs will be held on Tuesday, August 1, 2017. To participate in National Night Out in St. Louis city and to have your street closed for an event on August 1, neighborhoods must register by Wednesday, July 19, 2017.
Many people may be familiar with the 'lights on' and 'front porch vigil' approach. However, St. Louis neighborhoods are also known for organizing block parties, cookouts, festivals, concerts, walks, safety meetings with law enforcement and other neighborhood events.
For the safety and enjoyment of all who are planning and participating in neighborhood events, the St. Louis City Streets Department may be able to allow for street closures on non-bus routes with proper registration.
About National Night Out
For over three decades, National Night Out has championed community involvement as a way to prevent crime by encouraging residents to get out and meet their neighbors and partner with law enforcement.
The National Association of Town Watch describes National Night Out as "a community-building campaign where neighborhoods throughout the country are simultaneously promoting partnerships with law enforcement and building neighborhood camaraderie to make communities a safer, better place to live."
Benefits of National Night Out
Heighten crime and drug prevention awareness.
Generate support for, and participation in, local anti-crime programs.
Strengthen neighborhood spirit and police-community partnerships.
Send criminals a message that neighborhoods are organized and fighting back.
In a local example of how community involvement can help deter crime, an attack of two women in Tower Grove South neighborhood was interrupted by neighbors; possibly preventing a more serious outcome. News reports indicate "neighbors saw what was happening, shouted at the criminals and immediately called police" prompting the assailants to flee.   
Get Involved
Together communities can raise awareness of crime prevention efforts and make a difference. Be sure to register your neighborhood event, and encourage neighbors to participate in the 2017 National Night Out Against Crime and Drugs in St. Louis.
Contact Information:


National Night Out

Office Phone: (314) 657-1392

Department:


Neighborhood Stabilization Team