Planning Department - About
A look at the responsibilities & functions of the Planning & Urban Design Agency's Planning Office.
Planning with the Community:
The Plan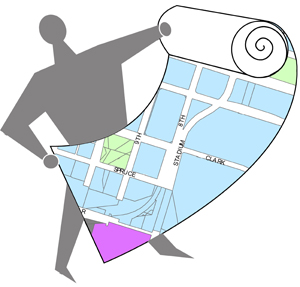 ning Office is responsible for neighborhood plans, topical plans and comprehensive plans that seeks to improve the quality of life for residents in the City of St. Louis . The planning staff applies resources and expertise in a multi-disciplinary team effort, to assist neighborhood residents and businesses in improving and stabilizing the physical, social, and economic qualities of neighborhood life.     
The Planning Office works directly with community leaders and the community to address their issues, as well as assists other city departments in their efforts to improve the quality of neighborhoods. Additionally, the planning office is responsible for updating the
Strategic Land Use Plan of the St. Louis Comprehensive Plan (SLUP)
. The SLUP is a guide to the future development of the City of St. Louis.                       
Planning Responsibilities:
Make recommendations to the Planning Commission on 1) blighting studies and redevelopment plans, 2) modifications to zoning ordinance and zoning map, 3) neighborhood/citywide plans, 4) topical plans and 5) other major plans addressing issues important to the City of St. Louis.

 
Provide advice on Zoning Overlay Districts for Community Unit Plan (CUP), Planned Unit Development Plan (PUD), Signage Plan Overlay District (SPD), Special Use District (SUD) and Form-Based District (FBD).


Provide advice on Conditional Use Permits, Housing Conservation Districts, and Naming/Renaming A Public Street.   
     
Review and write neighborhood plans, citywide plans, topical plans and land use plans.     
     
Continuing to update the Strategic Land Use Plan, the land use component of the City's Comprehensive Plan.             
     
Work with organizations devoted to improving the quality of life and the prosperity of the City of St. Louis's 79 neighborhoods.  
             

     Environmental Review Responsibilities:
As a recipient of federal funds from the U.S. Department of Housing & Urban Development (HUD), the City's Community Development Administration (CDA), through the Planning & Urban Design Agency (PDA), performs reviews for environmental impacts of all its program activities on a site by site basis.