A Preservation Plan for St. Louis
Part II:  Property Types
Period 3 - The World's Fair City & the Automobile (1904-1940)

Hospitals and Social Service Buildings
Hospitals and social service buildings constructed in the World's Fair City were more numerous than in other periods, and varied greatly in size.
Hospitals
Firmin Desloge Hospital is the main hospital building of the St. Louis University Medical Center. Built in 1933 from plans by Study, Farrar and Majers, with Arthur Widmer, the structure rises ten stories above a high basement, and reflects the Modern Gothic Revival style. The basement and first two stories are covered with ashlar limestone, projecting out from the building at the center and end blocks. These projections display Gothic pointed-arched openings and flat, slender pilasters; the central projection has a monumental porch with compound arches. Above this three-story base, the building steps back, its five divisions composed of narrow piers with double hung windows and brick spandrels. The building is crowned by a steeply-pitched hipped roof of copper, pierced with wall and roof dormers in a variety of configurations.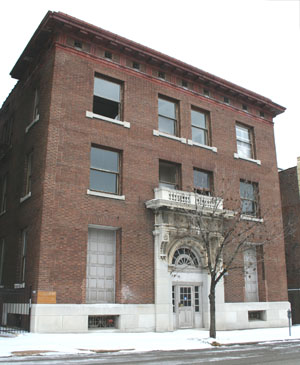 In contrast, a much smaller, private hospital appeared in 1903. The former Peoples Hospital, at 2221 Locust Street, was built to serve African-Americans during segregation: at the time, it was the only medical facility which allowed African-American physicians and surgeons to treat private patients. The hospital had seventy-five beds; it closed in 1978. The three-story building, of brown brick, has a central arched entry with stone entablature and false balcony. Windows are large double hung sash with flat arches and stone sills. Arts and Crafts influence is shown in colorful tile details at the attic story, which is pierced by small square windows. A projecting cornice with modillions surrounds the building.
Children's Services Buildings
Social services for the sick and indigent children of St. Louis dated back to the mid 19th century. One of the few institutions for African-American children was the Annie Malone Children's Home, at 2612 Annie Malone Drive in The Ville neighborhood. The home was originally founded in 1888 as the St. Louis Colored Orphans Home, in a building at 1427 N. 12th Street; a donation from Annie Malone, a prominent African-American businesswoman, allowed construction of this facility in 1922. It was renamed for her in 1946. The Colonial Revival building has the appearance of a large, single-family residence, with a two-story central block, under a gable roof with three dormers. A porch with two-story posts covers the main entry, which is set beneath an elaborate broken pediment. One-story wings flank the central section.
Father Dunn's New Boys Home and Protectorate (now the Harbor Light) was constructed in 1913, as a refuge for orphaned and troubled youths. Actually two attached buildings, the easternmost has a central projecting bay, containing a pedimented entry. Narrow, double hung windows with transoms are placed under jack arches of terra cotta. A projecting metal cornice is located below the parapet. The adjacent building, more modestly detailed, has regular rows of double hung windows and transoms, and repeats the metal cornice design.