Employee Wellness
The City of St. Louis offers an Employee Wellness Program funded through a partnership with BJC
Program Information
2019 Bee-Fit Health Risk Assessment Report
Employee Wellness Program - Regulation 148 
The Bee-Fit Wellness Program is a partnership between The City of St. Louis and BJC Healthcare and focuses on educating and motivating City of St. Louis employees to live a healthy lifestyle.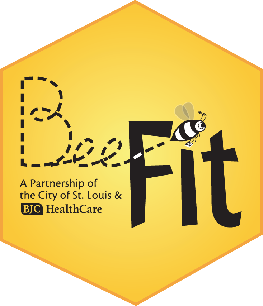 Contact
For more information about the Program, please contact Bee-Fit Wellness Coordinator, Cathy Hargrove by e-mail at hargrovec@stlouis-mo.gov or by telephone, at 314-622-4849.
Newsletters
Active Challenges and Events
Program Offerings
Bee-Fit offers the below Programs and much more:
Wellness screenings, designed to identify certain potential risk factors
Fitness Classes
Monthly Buzz employee newsletter
Exercise incentive programs like Weight Loss Challenge and Mile-by-Mile Marathon
Flu shots
Smoking cessation classes
Diabetes-at-work classes
Become a fan on Facebook
 BeeFit Wellness Calendar
NOTICE: Health Screenings and BeeFit Program activities are suspended effective on March 16, 2020.
Please come back to review this Web page for further information.
Thank you.
The BeeFit Mission is to raise individual awareness and empower City of St. Louis employees to make positive, health-enhancing lifestyle choices and engage in practices that will benefit their quality of life.
BeeFit Event Descriptions
Mammogram Screening: The Siteman mammography van offers the convenience of screening during your workday. Call to 314-747-7222 or 
1-800-600-3606 (option #2) to schedule your appointment day!
PT @ Fitness Center: Members of the Carnahan Courthouse and 1520 Market Fitness Centers will have access to Wellness Coordinator Cathy Hargrove, who is a Certified Personal Trainer, to help with questions about the fitness equipment and its proper usage. She can also help you develop a workout routine.
Join the Fitness Centers: To join, you must complete a less than 30 minute fitness center orientation. These can be completed by appointment only. Please contact BeeFit Wellness Coordinator to set your appointment today!
Fitness Center and Group Fitness Classes
Foam Roller Workshop: Foam rolling is a form of self-massage with many benefits including promoting the feeling of relaxation, reducing muscle tightness and increasing range of motion.  Participants will learn how to safely complete a variety of exercises in this workshop. This is an active class encouraging participants to complete the exercises.
No Equipment, No Problem Workshop: Learn exercises you can complete without any equipment and can complete anywhere.  Participants will be furnished with an exercise handout. This is an active class encouraging participants to complete the exercises.
Tabata: An innovative way to interval train. Short periods of work interspersed with periods of rest; this combination is ideal for gaining strength, endurance and toning up. This is the perfect class for beginners and advanced exercisers alike.
Versa Band Workout Workshop: Be ready to exercise in this workshop! Employees will learn and complete a variety of strength exercises using the versa band (loop band, no handles). At the end of workshop, employees will be given a versa band and pictures with instructions of exercises completed. Participants should wear comfortable clothing and bring a stretching/yoga mat.
Yoga: This class is a series of movements that utilize breath, holds and flows to increase strength, flexibility and balance.
For more information about BeeFit, contact Wellness Coordinator Cathy Hargrove
hargrovec@stlouis-mo.gov or 314-622-4849.
2 comments from people like you have helped us improve this page. Keep the feedback coming!