About Emerald Ash Borer in St. Louis
Emerald Ash Borer (EAB) has been positively identified in the City of St. Louis. Learn about the insect and the City's response to the threat.
Overview
The canopies over St. Louis City streets and parks are composed of a diverse mixture of trees, but the Ash tree is most common. The arrival of an insect known as Emerald Ash Borer (EAB) is a serious threat to all Ash trees in the City. 
The City of St. Louis takes the EAB threat seriously. Our Forestry Division has mapped more than 15,000 public ash trees along City streets and parks. Crews will begin treating large, healthy Ash trees before they can become infested with the bugs, while removing thousands of others before they die and become dangerous. 
The Ash Borer Insect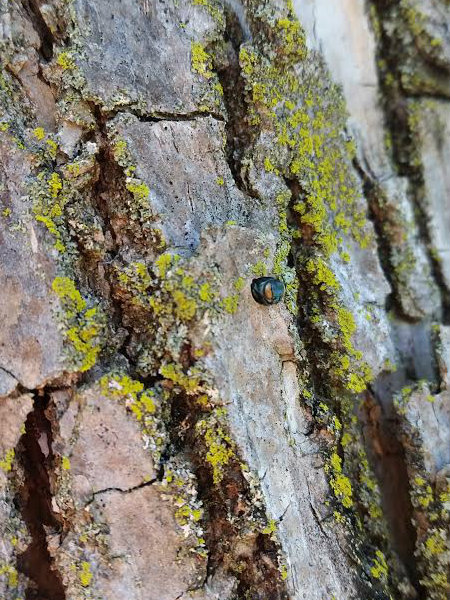 The invasive insect known as Emerald Ash Borer (EAB) has been positively identified in the City of St. Louis. While recently discovered here, the pest has been killing all species of ash trees in the northeastern United States since 2002. Experts agree that EAB will kill all untreated ash trees in its path. 
The movement of infested firewood from one town to another is the primary way the insect moves across the US. It can fly short distances and will kill ash trees in a city within 3-10 years depending on the size the city's size. For more background about the pest, visit the Emerald Ash Borer Information Network website.
Impact on Trees
Dead ash trees create extreme risk as they dry out and become extremely brittle. This becomes a large public safety concern and creates the need to proactively plan for treating larger and healthy ash trees to resist infestation, or remove the smaller and lower quality ash trees. 
The city has been planning for this eventual infestation for several years. We have recently updated the city's computerized GIS-based inventory of trees along our public streets and many of our larger parks. Additionally, the city has not planted ash since 2005 so that no new ash trees are added to the stock of trees needing to be removed. A plan was created in 19xx and an updated strategy has been developed to create specific actions to deal with this pest and the threat to our ash trees.
Tree Population
Ash trees comprise 17% of the city's street tree population. There are approximately 80,000 street trees and 15,004 are ash (18.75%). The occurrence of ash varies block by block, neighborhood by neighborhood, and ward by ward. While some blocks may have no ash trees, or only a few, there are many other blocks where ash is the major street tree that creates a tree-lined street. 
The loss of these trees will have a tremendous impact on each block and the city as a whole. Ash trees provide $817,000 in benefits to the city each and every year.
Treatment 
Currently, the city plans to treat some ash trees with chemicals to prevent infestation. Candidates for treatment will be larger diameter trees that are very healthy. These provide the most benefits and are better able to utilize treatments to survive the insect. While there are many options for chemical treatment, the Forestry Division has chosen a botanical product extracted from neem tree seeds to protect candidate trees. This botanical injectable option, known as azadirachtin, provides safety to residents, and provides environmental protection the environment and nearby water. For more information about the chemical to be used, visit BioForest Technologies
Removal 
A large percentage of ash trees will need to be removed to protect public safety from dead and dry brittle trees. Removal does not come easy to the Forestry Division that is charged with managing the public forest resource within the City of St. Louis. Some would rather "wait out the bug" to see if ash trees will survive. 
The experience of many other cities in the US indicates that a combination of treatments and removal is the best option to keep good quality ash trees alive, but remove others BEFORE they become a large safety risk.  In the coming weeks, residents may begin to notice bright yellow tags on ash trees that must be removed. 
Replanting and Recovery
The City of St. Louis is cooperating with a local non-profit, Forest Re-Leaf of Missouri to secure tree planting grants and provide assistance with replanting and recovery efforts. Replanting draws from aldermanic funds historically used for tree planting, and many wards have increased funds committed to tree planting.
Replanting will achieve complete replacement of all ash trees removed by using a palette of approximately 40 species of trees.