This article is 4 years old. It was published on February 8, 2018.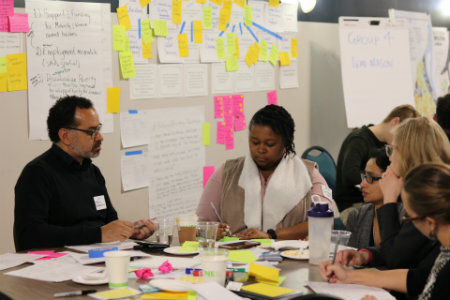 St. Louis, MO – Today, St. Louis Mayor Lyda Krewson, Chief Resilience Officer Patrick Brown, and 100 Resilient Cities – Pioneered by The Rockefeller Foundation (100RC) completed the first ever 100RC CoLab –  a two-day convening of experts working to help St. Louis launch an innovative economic development strategy that more equitably benefits all residents.
Led by CRO Brown and the St. Louis Office of Resilience, the CoLab is a critical step towards finalizing the City's Resilience Strategy, a plan to make the City more resilient to physical, economic and social challenges. 100 Resilient Cities defines urban resilience as the capacity of individuals, communities, institutions, businesses, and systems within a city to survive, adapt, and grow no matter what kinds of stresses and shocks they experience - which may include poverty, racism, violence, divestment and aging infrastructure.
Equitable development is a core theme in St. Louis' developing Resilience Strategy. The CoLab has generated ideas and technical assistance from the diverse participating stakeholders for how to address economic growth, in addition to other persistent challenges such as aging infrastructure, natural disaster response, education and public health deficits, in an equitable way.
A 100RC CoLab is a collaborative, expedited process between municipal government and members of the 100RC Platform of Partners. The 100RC Platform is a curated suite of resilience-building tools and services, provided by partners from the private, public, academic, and non-profit sectors at no direct cost to member cities. 100RC Partners at the St. Louis CoLab include: CSRS, Inc.; EY; Fourth Economy; ICIC; IHS Markit; Microfinance Opportunities; Urban Land Institute; U.S. Bancorp Community Development Corporation. Contributing their cities' experience to the conversation were DeVon Douglass, Chief Resilience Officer of the City of Tulsa, and Stefan Schaffer, Deputy Chief Resilience Officer of the City of Chicago.
At the two-day event, these partners shared technical assistance, tools and products, best practices, professional relationships, and expertise to foster citywide economic development, with intentional focus on Wells-Goodfellow, a historically underserved neighborhood that is representative of the challenges faced by communities currently untouched by traditional economic development strategies. A low-lying neighborhood, Wells-Goodfellow has a decades-long history of chronic flooding and issues related to storm water backup. The predominately African American (98 percent of residents) community is furthermore afflicted with high rates of abandoned homes – about 36 percent of the properties within the neighborhood are vacant.
"We cannot move forward as a resilient city without first addressing existing inequities faced by people of color and low-income communities, some of which are the result of traditional development programs," said Mayor Lyda Krewson. "The CoLab is a step forward in pursuing a more inclusive approach of investing in our economy so that growth produces benefits for all residents of St. Louis."
This broad base of local partners and national experts directed their focus on four objectives:
Develop a system map of root causes of inequitable economic development in the Wells-Goodfellow neighborhood to identify opportunities for action.

Explore how current tools from 100RC, partners and advisors can help address the needs and opportunities identified.

Design new tools, services and city actions to better address barriers to achieving equity.

Identify how findings from the system map may be applicable to other low-income neighborhoods in St. Louis and other cities.
"Driving economic development is a process that requires support in many forms. As St. Louis advances toward a more equitable future, we are proud to have the strong support of 100RC and a diverse range of public and private sector partners," said Patrick Brown, St. Louis Chief Resilience Officer." The conversations we're engaging in are rooted in the context of St. Louis , but with the intention of applying the lessons learned to other communities."   
"As host of the first ever 100RC CoLab and through its deep commitment to tackling inequity, St. Louis has demonstrated its role as a resilience leader in the Midwest and across the world," said Otis Rolley, 100 Resilient Cities Regional Director, North America. "We look forward to continuing to work with Mayor Krewson, Mr. Brown, and the residents of Wells-Goodfellow, as well as the rest of St. Louis, to create an environment of equitable growth."
The CoLab also looked further into an investment opportunity from the National Geospatial-Intelligence Agency (NGA), a large federal employer looking to move its 3,000 employees to a new $1.7 billion campus in North St. Louis. Other opportunities include a partnership between the City and a collaborative of nonprofits called the Green City Coalition which leads a $13.5 million Urban Greening Project in Wells-Goodfellow, along with the Missouri Department of Conservation and the Metropolitan Sewer District. The project aims to partner with residents to co-create vibrant, biodiverse, and resilient neighborhoods by converting concentrated areas of abandoned buildings and vacant lots into rich urban green spaces that help retain stormwater runoff, and promote healthy and engaged communities through deeper connection with nature.
###
About 100 Resilient Cities – Pioneered by The Rockefeller Foundation
100 Resilient Cities – Pioneered by The Rockefeller Foundation (100RC) helps cities around the world become more resilient to social, economic, and physical challenges that are a growing part of the 21st century. 100RC provides this assistance through: funding for a Chief Resilience Officer in each of our cities who will lead the resilience efforts; resources for drafting a Resilience Strategy; access to private sector, public sector, academic, and NGO resilience tools; and membership in a global network of peer cities to share best practices and challenges. For more information, visit: www.100ResilientCities.org.
###
Contact Information:


Koran Addo
Director of Communications
Office Phone: (314) 622-4072

Department:


Office of the Mayor