Creating Service Pages
How to create service pages for your department.
Prerequisites
This tutorial assumes you already know the following:
Overview
Service pages are for letting people know how to get a service your department provides.
These pages should be clear and complete to make sure people are prepared before calling you, filling out an application, and/or coming in to your offices.
Every service page will automatically be listed in the Service section of the website.
Service pages might include instructions for:

Applications (license, permit)
Online payments or transactions
Step 1: Create the Page
Create the service page where it fits in your section of the site.
Make sure you set the Content Type to be A-Z Service Pages.
Page Display container settings do not apply to Service Pages.

Step 2: Fill Out Sections
There are three parts to a service page: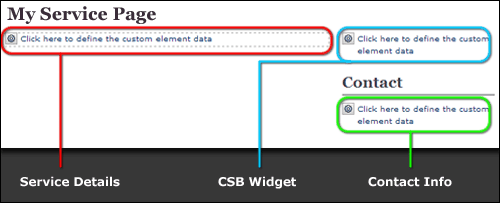 Details
The details are broken up into six sections.
Overview (required): A brief overview of this service, to make sure they are looking at the correct one.
Preparation: What should people do or have ready before following the instructions?
Instructions (required): Clear and complete step-by-step instructions to get this service. If there are related documents or websites, link to them here as well.
Fees: Does this service cost anything? If so, what kinds of payment do you accept?
What to Expect (required): What happens next? Is there a timeline, or will they get the service right away?
Additional Information: Any extra related information that might be helpful.
It is important to note that each section will have a heading in the "Heading 2" format. This means that if you wish to use headings in your sections they will need to be "Heading 3" or smaller.
CSB Widget
Fill out the CSB Widget if a request for your service can be submitted through the Citizen's Service Bureau.
Click the link that says Click here to define custom element data at the top of the right column.
Select the CSB service topic(s) that you would like to have on this page.

To select multiple, click on the first one, then hold down the ctrl key while you select the rest.

Click Finish
Contact Information
Every internal agency that a person might need to contact to get this service should be listed here.
Click on Click to define custom element data.
Click on Browse Taxonomy.

Put a check next to each organization you want to show up.
Click Finish.
Example Page