Organization Contact Element
How to fill out your organization's contact element.
Prerequisites
This tutorial assumes you already know the following:
Overview
Organization Contact elements are used to store and display department and organization contact information.

These elements can be re-used in many places, including the site directory.

Examples
Full Organization Contact render handler: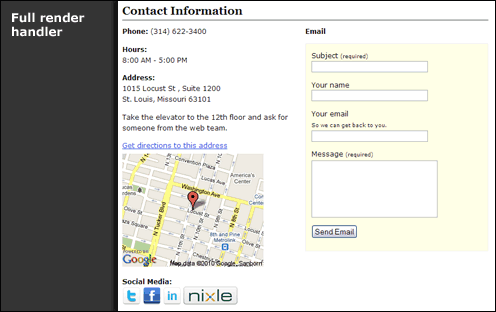 Step 1: Tag Your Department Homepage
Set the Content Type to Group Home Page.
Set the Layout (under the Page Display Tab) to Department Home Page.

Step 2: Fill Out the Organization Element

Click on the 'Click here to fill out the Organization element' link.



Name: Press 'Browse Taxonomy' and select your organization.

Phone: Organization's main phone number like 3146223400 (no spaces, dashes, etc).
Toll-Free Phone: Organization's toll-free phone number.
TTY Phone: Organizations TeleTypeWriter number.
Other Phone: If there is another phone number you would like to display, enter it here.
Other Phone Label: If you have entered a number in the 'Other Phone' field, label the number here.
Fax: Organization's main fax number.
Contact Email: Organization's main contact email.
Address 1: Organization's street & number.
Address 2: Apartment, floor, suite, building number, etc.
Contact City: City organization is in.
Contact State: State organization is in.
Contact Zip: Organization's zip code.
Directions: If your organization might be hard to find, put some tips here.
Hours of Operation: When are you open?
External URL: If this organization has an external website, enter the full URL here (including http://)

Facebook URL: Full URL to their Facebook profile.
Twitter URL: Full URL to their Twitter page.
LinkedIn URL: Full URL to their LinkedIn profile.
Nixle URL: Full URL to their Nixle profile.
Logo: You can upload the organization's logo here. It should probably be no larger than 150px wide.

Click Finish.
Step 3: Submit the Organization Element
Check your content for accuracy.
Submit the element.