Creating Events and Meetings
How to create City events and meetings for the online calendar
Prerequisites
This tutorial assumes you are familiar with the following:
Overview
Contributors are able to add events and public meetings to the website's calendar. These events will show up in the sponsor organization's event folder, as well as the overall City calendar.
The City's event calendar can be seen here: http://stlouis-mo.gov/events/
Step 1: Go to the Add Event Page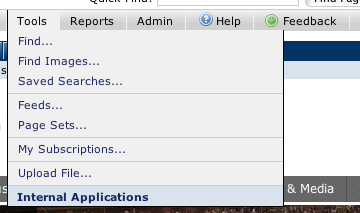 Click on the Tools menu in the gray toolbar.
Click on Internal Applications.
Click on Calendar, Events and Meetings Admin.
Click on Add a New Event.

Step 2: Create the Event
Fill out the form on this page to create your event/meeting.
Meeting Type: What kind of event/meeting is this?
You may be asked to fill out more aldermanic information if you select an aldermanic meeting type.
Sponsor: Which department/organization is sponsoring?
Audience: What group of people is this geared towards?
Neighborhood: Which neighborhood might be interested?
Ward: Which ward might be interested?
Keyword: Which tag will correctly direct the event to show up in a filtered list on other pages. 
Do not apply a keyword unless instructed or you have prior knowledge of which to use.
Title: Your event title.
Do not use special characters or dashes (letters, spaces, and numbers only) in the title until we work out some bugs.
Description: What is this meeting/event all about?
Start Date: When does it start?
End Date: When does it end?
Start Time: What time does it start?
End Time: What time does it end?
Location: Where is it?
Admission: Are you charging for admission, or is it free?
Admission Description: More admission info (who pays what).
Contact Name: Who should be contacted about this?
If they do not have a profile in the system, you can select other and type their name in.
Phone Number: Contact phone number.
Contact Email: What email address can people email about this?
Contact: More contact information
Related Links

Website: If the meeting/event has a website, put the full URL to the website (including http://) here.
Agenda: If the meeting/event has an agenda, put the full URL to the agenda page (including http://) here.
Minutes: If the meeting/event has minutes, put the full URL to the minutes page (including http://) here.
Meeting Recording YouTube URL: Paste the full URL to the YouTube video here. Please get the URL by clicking on the "Share" button under the video.
 


Status: If active, it will show up on the site. If inactive, it will not.
Associated CommonSpot Subsite: Which event folder should this event/meeting go in?
This is usually the one that belongs to the Sponsor you chose earlier.
Recurrence: Will this happen more than one time?
Step 3: Submit Your Event
Review the form to make sure the event/meeting information is correct.
Once you are satisfied, click on the Add Event button.
Your event will be added to the database, and a page for the event will go into the subsite you selected.