This article is 9 years old. It was published on April 2, 2011.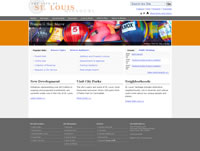 On April 1, 2011, The City of St. Louis completed the migration of its website. The City of St. Louis official website is now http://stlouis-mo.gov. Since we introduced the site for public review on December 1, 2010, we have heard from many of you - nearly 10,000 messages were sent via the feedback form at the bottom of each page. We are grateful for your interest and feedback.  Your comments were useful to department contributors and the web development team and helped  improve the site content and functionality.
We hope that the early introduction to the website and the extended transition period  provided those who regularly use the City's website the opportunity to:
Contribute feedback and comments
Familiarize themselves with the new website and learn to locate and find information.
Update links to City online resources from their web resources.

How to find information on stlouis-mo.gov?
The new website has adopted a new approach to organize and classify information. The entire site relies on an underlying information architecture. Every page created is classified by organization, topic, audience, content type, and geography. This approach helps present content in flexible ways.
Below are several ways information can be found:

Search - On the upper right corner of every page there is a search feature powered by Google. This is a powerful search tool that yields relevant results.

Popular Links - The most popular links are listed on the homepage. These links are selected objectively by Google analytics. Links appear in "popular links" based on the frequency these resources are accessed.

Browse by Topic or Audience - These sections allow user to find related information based on topic. Each page created in the website is associated with a topic or audience.
 
Services - Pages that describe how to obtain services with the City are grouped under this heading. Service pages are listed in alphabetical order, by department, or by topic.

We are delighted to be able to provide this new resource to you and that City offices, agencies, and departments are now able to manage their own information and extend their services to the public through this new website.  
Contact Information:


Sonja Pelli
Manager of Internet Services and Community Information Network
Office Phone: (314) 657-3780

Department:


Community Information Network


Topic:



1 comment from someone like you has helped us improve this page.