News and Media
News, and announcements, and galleries from the Office on the Disabled
Announcements
Gina Hilberry, AIA LEED AP, Now Vice Char of the Accredited Standard Committee A117
Gina Hilberry, AIA LEED AP, chairperson of the Office on the Disabled's Advisory Council has been elected Vice Chair of the Accredited Standards Committee A117 on Architectural Features and Site Design of Public Buildings and Residential Structures for Persons with Disabilities! 
This is the committee that considers accessible design standard modifications for building codes that eventually get adopted around the country. The City and County of St. Louis, as well as many other jurisdictions have adopted the 2003 version of ANSI A117.

We are so fortunate to have such a tireless advocate in St. Louis!

Congratulations Gina!
Saint Louis is Rolling Out Accessible Taxi Cabs
Updated 5/12/12:  The Office on the Disabled is happy to report that two additional taxi companies, Metropolitan Taxicab Corporation and St. Louis Airport Taxi Council have added accessible taxi cabs to their fleets as well.  This brings the total of accessible taxi cabs in Saint Louis to sixteen!  Looking forward to making transportation more readily accessible for all in our fair city.

Check out KSDK's article and video highlighting two taxi companies, A Best Taxi and Metro West Transport, who have added accessible taxi cabs to their fleet.  The Office on the Disabled is excited that access to transportation for all Saint Louis citizens and visitors is steadily increasing.
Contact information for these taxi companies and other means of accessible transportation in Saint Louis can be accessed through this Office on the Disabled page.

Please take note that while the KSDK video is not captioned, the content of the video is captured in the text of the article.
Max Starkloff Remembered
Co-founder and President of the Starkloff Disability Institute, Max Starkloff died December 27, 2010, at the age of 73. Max became a quadriplegic in 1959 and founded Paraquad in 1970. He became an advocate for the interests of people with disabilities and never gave up. At the end, he was working full time to continue the success of the Starkloff Disability Institute.
"The greatest thing about Max was his creativity," says David Newburger, a lawyer, Commissioner on the Disabled for the City of St. Louis and one of Starkloff's closest friends. "He saw issues and things that today are obvious, but they weren't then. There he was, stuck in a nursing home, and he developed independently the idea that he would move out into the community, live in an apartment, marry his sweetheart and have a job. He didn't want to spend his life in a place where other people made the decisions for him. He was fiercely independent."
Mayor Francis Slay said in a statement: "[Starkloff's] life was the stuff of a great movie....He was an example of living a full life as a person with a disability. The designs and operating practices of the City's public buildings, Metro, the St. Louis Zoo, and Busch Stadium reflect his advice, solicited and otherwise. He cannot be replaced, only remembered."
Mayor's Service Award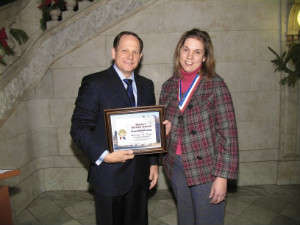 Each year, Mayor Francis Slay honors those City employees who are making clear and significant contributions to the City and providing exemplary service to City customers.
We in the Office on the Disabled are proud to announce that our very own, Christine Boyer, has been selected to receive the Mayor's Service Award in the category of Departmental Image for 2010.  It is clear that Christine makes a special effort to go beyond what is expected to assist those who use our services.
Congratulations Christine!!
Increasing Accessibility
The Office on the Disabled is happy to announce that we have acquired JAWS Screen Reader Software.  Developed for computer users whose vision loss prevents them from seeing screen content, JAWS reads aloud what is on the PC screen.  It is our hope that this will assist the drafters and designers of the City's website in making their screen productions more accessible for everyone.
The Office on the Disabled would be happy to demonstrate the software to anyone interested in IT or the web, so that they can understand how their work appears to the blind.  It will hopefully help drafters and designers think about how to improve their screen productions both on and off the web.
Interpreting Services for Citizens
The Office on the Disabled provides a licensed sign language interpreter every Friday in City Hall.
Every Friday from 8:00 AM - 12:00 PM the Office on the Disabled provides a sign language interpreter for citizens who may need assistance with communication.  This service is free to the public and no appointment is necessary.  The interpreter is stationed in the Office on the Disabled, City Hall, Room 30.
In addition, the Office on the Disabled provides a Sorensen Video Relay that is available to citizens who wish to use this communication device in order to have access to sign language interpreters during business hours Monday - Friday.
Study Seeks Employed Participants with Mobility Impairments and Limitations
If you have a mobility impairment and limitation, you may be eligible to participate in a new research project.  This research aims to understand how people with mobility impairments and limitations accomplish job tasks, how their environment affects their worksite participation, and what, if any, help they need to complete employment activities.
Eligibility requires that you:
Have a mobility impairment and limitation (difficulty moving arms or legs)
Be employed for at least 2 years at your current job
Work at least 20 hours per week regularly
Be 18 years of age or older
Have access to a computer
Can read at or above the 6th grade level
Can enter responses into a web-based survey or direct another individual to enter your responses into a web-based survey
If eligibility is established you will receive a code to log on to the survey site and complete the study. Qualified participants will be asked to complete the survey a second time in 4-6 weeks.   All information will be kept confidential.  Participants will be reimbursed for their time and effort.  This web-based assessment will take approximately one hour to complete.
Go to the 
Study Participation Eligibility Survey and Registration 
page and take a short pre-survey to determine eligibility.  
This study is conducted by the Washington University Program in Occupational Therapy in collaboration the Region 7 Disability and Business Technical Assistance Center.  This research is funded by the National Institute on Disability and Rehabilitation Research at the US Department of Education.
If you do not have access to a computer please call Meghan Gottlieb, Research Coordinator, at (314) 286-1675 
Office on the Disabled Advisory Council
Vision Statement 
An accessible City for all.
Mission Statement
Advise the Mayor, the Board of Aldermen, the Director of Human Services and the Commissioner on the Disabled as to the welfare of people with disabilities in the City of St. Louis. Review and make recommendations on matters presented to the Council for comment.
Should citizens wish, they can e-mail questions / comments through the home page of the Office on the Disabled. The field that needs to be filled out in order to send an e-mail is located in the bottom right of the home page. 

The newly appointed council members:
Linda Baker, MSW, ACSW
Ms. Baker is the Executive Director of the Governor's Council on Disability.  She has over 30 years of professional social work experience in the areas of mental health and home care; programming and policy development for people with disabilities.
Gina Hilberry, AIA LEED AP
 Ms. Hilberry is the Principal of Cohen Hilberry Architects, Inc.  She has provided architectural services related to historic preservation, renovation, conversion, new construction and accessibility since beginning her professional career in the early 1980's.  Her personal emphasis has been on accessibility, universal design, research and cost effective conversion and compliance techniques.
Michael Keller
Mr. Keller has retired after many years of service from Anheuser Busch as their Senior Cost Analyst.  He is now a full time disability advocate.  Mr. Keller is currently the treasurer for the Missouri Council for the Blind and sits on the advisory board for the American Foundation for the Blind.
Kerri Morgan, MSOT OTR/L ATP
Ms. Morgan received a Master's of Science degree in Occupational Therapy from Washington University in 1998, where she is an Instructor in the Department of Neurology and Program in Occupational Therapy.  Prior to working at Washington University, Ms. Morgan served as a White House intern in the Presidential Personnel Office and at Devonshire Hospital in the Occupational Therapy Department in London, England.  Ms. Morgan is also an avid wheelchair athlete.  She was the first woman selected by the U.S. Quad Rugby National Team in 2009.  She is currently on the United States Track and Field team training for the London Paralympics Games in 2012 and is a medal holder from the 2008 Beijing Paralympics Games.
William Sheldon
Mr. Sheldon is a founding member of Paraquad Inc. where he developed its Deaf and Hard of Hearing Program.  He serves on the Board of Directors of the Central Institute of the Deaf.  He has degrees from Washington University in business, counseling, and nonprofit organization management.
Jane Thomas
Ms. Thomas is the Mobility Specialist for Rehabilitation Services for the Blind.  She evaluates the travel needs of blind and visually impaired adults and provides training on utilizing public transit.  She is a member of the Metro Access Advisory Group and the Association for the Education & Rehabilitation of the Blind and Visually Impaired.