This article is 5 years old. It was published on July 18, 2017.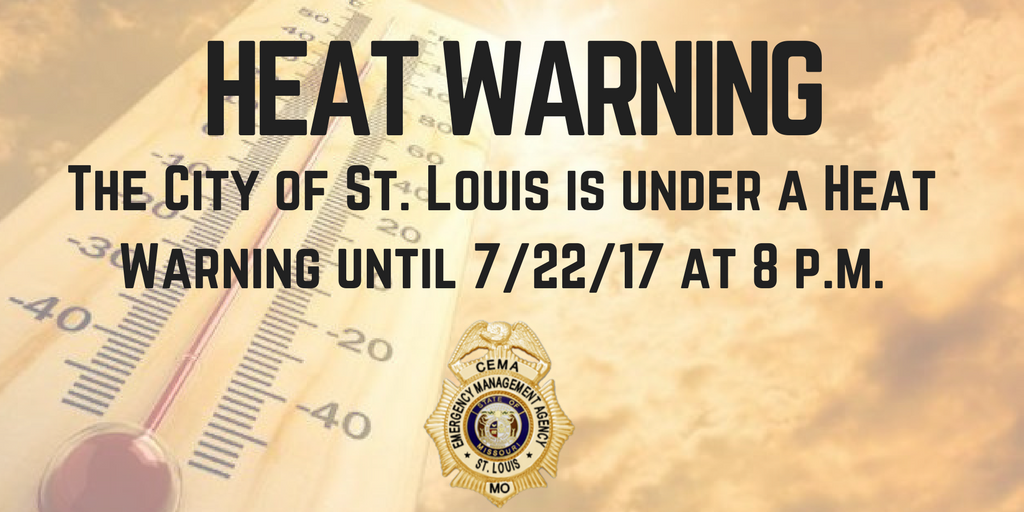 The National Weather Service in St. Louis has issued an Excessive Heat Warning for the City of St. Louis area. The warning is in effect from 12:00pm, Tuesday, July 18, 2017 through 8:00pm, Saturday, July 22, 2017. Temperatures are expected to be near or above 100 degrees, with heat index values expected between 105 and 113 degrees each afternoon and evening.
The combination of hot temperatures and high humidity will lead to an increased risk of heat-related stress and illness. The very young, the elderly, those without air conditioning, and those participating in strenuous outdoor activities will be the most susceptible. Also, car interiors can reach lethal temperatures in a matter of minutes.
Heat Related Health and Safety Tips for People:
Avoid poorly ventilated areas and prolonged work in the sun.
Keep plenty of fluids on hand and try to stay in, or take frequent breaks in an air conditioned environment.
Know the signs and symptoms of heat exhaustion and heat stroke.
Wear light weight loose fitting clothing.
Never leave children unattended in a vehicle. Check the backseat. During extreme heat vehicle temperatures can reach lethal levels in a matter of minutes.
Continuously check on family members, neighbors, elderly, chronically ill, and friends. If they have air conditioning available, encourage them to use it.
Replace Salt and Minerals: Heavy sweating removes salt and minerals from the body that need to be replaced. A sports drink can replace the salt and minerals you lose in sweat.
If you are on a low-salt diet, have diabetes, high blood pressure, or other chronic conditions, talk with your doctor before drinking a sports beverage or taking salt tablets.
Heat Related Health and Safety Tips for Pets:
In extreme heat, it is important that pets are in an air conditioned environment.
Never leave pets alone in a vehicle. If you see a pet in an unattended vehicle, call 911.
Watch for coolant leaking from your vehicle. A pet drinking just a small amount can cause death.
Do not force your animal to exercise after a meal in hot, humid weather. Limit exercise to the early morning or evening hours.
Never leave your pet standing on asphalt surfaces, as they can burn their paws.
There are numerous heat-related services available for residents:
Cooldownstlouis.org is helping area seniors and the disabled with their air-conditioning and utilities; and area low-income households may also apply for utility assistance only, at 314-241-7668, or www.Cooldownstlouis.org.
For information on cooling sites, contact the United Way Greater St. Louis Information Referral line at 1-800-427-4626 or if calling from a land line phone, dial 2-1-1.
For help with a serious heat related illness, call 911.
Immediately report animals in distress to the City of St. Louis Citizens' Service Bureau by calling 314-622-4800, reporting online at www.stlouis-mo.gov/csb, or by tweeting to @stlcsb. You can also contact Stray Rescue of St. Louis at 314-771-6121 ext 255.
Additional tips on child safety and child injury prevention can be found at http://www.safekids.org/safetytips/field_risks/heatstroke.
Additional tips on safety related to extreme heat can be found on the CDC website at http://www.cdc.gov/extremeheat/.