Things To Know Before Election Day Brochure
An overview of helpful information voters should know before election day.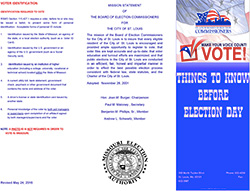 Publication Date: 06/24/2016
Document Type: Informational Pages
Sponsor: Board of Election Commissioners
Summary
The information in this brochure is an overview of information contained within the Board of Election Commissioners pages.

More comprehensive information can be found under the Voter Registration page:
https://www.stlouis-mo.gov/government/departments/board-election-commissioners/voter/
Download
Things to Know Before Election Day Brochure PDF (6.53 MB)
Need Help Viewing?
You need a program that can open Adobe PDF files. A free option: