This article is 3 years old. It was published on December 12, 2019.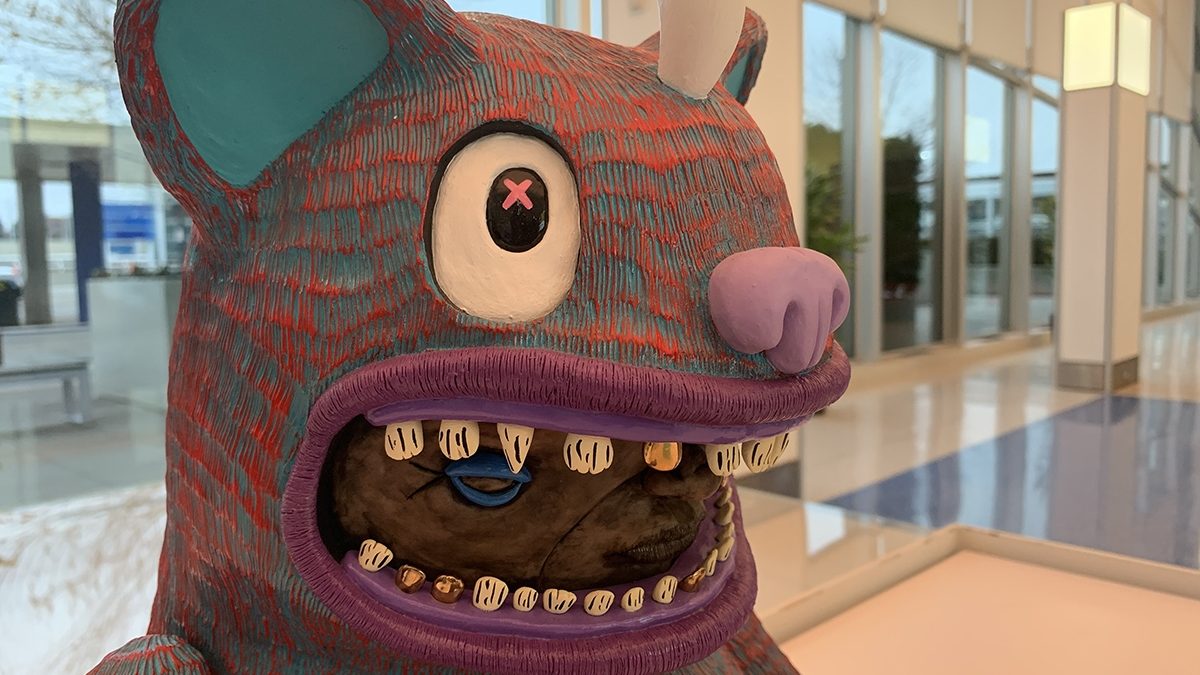 Small creatures are now eyeing unsuspecting passengers and visitors walking by in the Terminal 1 Ticketing Hall at St. Louis Lambert International Airport (STL). Be sure to look back and stare down some of the most unique toys you'll ever see in the new exhibition, Funk Muffins, by St. Louis sculptor Will Rimel.
Using a foundation of polymer clay and ceramics, Rimel has designed a whole new cast of characters complete with crazy eyeballs, scales, antennae, horns, and teeth imbedded into colorful, playful bodies. The curious will easily spot a bear and dragon in the gang, but the others are purely born of Rimel's imagination.
"Everyone can relate to toys, whether you buy them for your kids or played with them growing up. This allows the art to be disarming and approachable for all age groups and backgrounds," Rimel said. "Even if you don't take the time to closely examine the pieces, they are based on the bright colors and toy-like features which always engage viewers and bring a smile to their faces."   
Toys have consumed the artist from a young age, when he began collecting everything from Pokémon cards, Teenage Mutant Ninja Turtles, Pogs and even smashed bottle caps. That passion, fed by his creativity, cultivated his journey into contemporary toy designs which, through his artistic skills, has matured into meticulously sculpted artwork. Rimel finds that he can address serious thoughts with a fun, lighthearted approach.
Rimel received his BFA from Southern Illinois University Edwardsville under Paul Dresang and Matt Wilt. Since then he has been an artist in residence at multiple locations such as Craft Alliance Center of Art + Design in St. Louis, MO, as well as The Ceramic Center in Cedar Rapids, IA.
Funk Muffins will be on display through June 10, 2020 in the Terminal 1 Ticketing Lounge across from the Delta Air Lines ticket counters. The temporary exhibition is part of the Lambert Art & Culture Program, which is supported by the Regional Arts Commission. Will Rimel was chosen to exhibit by the Airport's seven-member Airport Art Advisory Committee.  Current members are Lisa Cakmak, Associate Curator of Ancient Art at Saint Louis Art Museum; Ellen Gale, Executive Director Clayton Chamber of Commerce; Shelley Hagen, Corporate Art Resources at Wells Fargo; Leslie Markle, Curator of Public Art, Mildred Lane Kemper Art Museum; Kiku Obata, Founding Principal of Kiku Obata & Co.; Roseann Weiss, consultant with ART+; and design artist and illustrator Carlos Zamora. 
The Lambert Art and Culture Program builds upon the culturally rich legacy of St. Louis Lambert International Airport. The mission is to elevate the visitor experience and uplift regional pride through the presentation of artwork created by local, national, and international artists. Currently, there are nearly 30 works of art or collections of art (temporary, permanent or on-loan) on view at the Airport. For more information, visit www.artoftravelstl.com.
Contact Information:


Jeff Lea
Public Relations Manager
Office Phone: (314) 426-8125
Mobile Phone: (314) 795-2235

Department:


St. Louis Lambert International Airport