This article is 3 years old. It was published on November 26, 2019.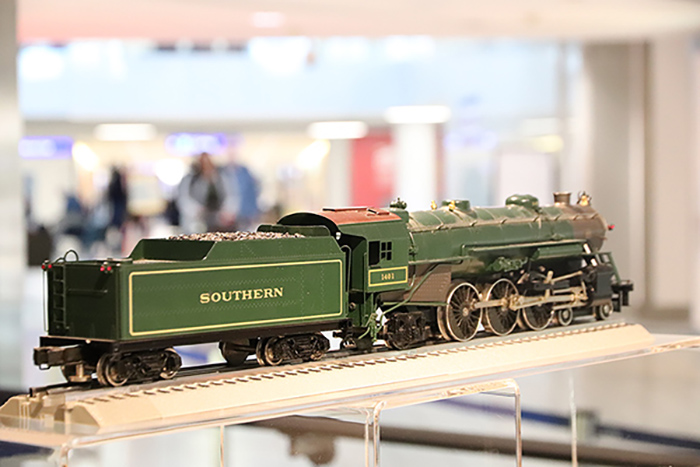 (November 26, 2019- St. Louis, MO) Two major elements that have long shaped St. Louis history are the focus of a new exhibition at St. Louis Lambert International Airport (STL).  The St. Louis Mercantile Library at the University of Missouri St. Louis has opened its exhibition Travel by River and Rail in Early St. Louis at the Lambert Gallery, located on Terminal 1 Bag Claim Level, near exit 11.      
The exhibition highlights the design of riverboats and railroads in the 19th and early 20th centuries through historic scale models, drawings, diagrams, and artwork, such as the work of Otto Kühler, a railroad designer and artist who created dynamic prints of train engines. There are also historic prints of river and rail travel, such as night scenes on the Mississippi River or the first train arriving in a frontier town by Currier & Ives. There are also models of steam engine trains, Pullman cars, flatboats, tugboats and paddle wheelers in the exhibition. The exhibition pulled selections from its Pott Inland Waterways Library, the Barriger Railroad Library, and the Mercantile Library Art Museum to provide a broad insight into the world of travel, industry, architecture and art- which all had a significant impact on the early days of St. Louis. 
Founded in 1846, and chartered by the State of Missouri in that year, the St. Louis Mercantile
Library is the oldest general library in continuous existence west of the Mississippi River.
The Mercantile Library continues to build its collections of rare books, manuscripts and artifacts that concentrate on Westward Expansion, American rail and river transportation history, the history of the St. Louis region, and particularly the works of Missouri and Midwestern artists.
The Mercantile Library enhances its core educational mission through an active exhibition calendar both at the Library and through loans to museums around the country. Recent Library exhibitions include 50 Great Women in the Arts (2011); Mapping St. Louis History (2014); and Angelo Corrubia: Scenes of St. Louis (2018).  
Travel by River and Rail in Early St. Louis will be on display through May 12, 2020. The temporary exhibition is part of the Lambert Art & Culture Program, which is supported by the Regional Arts Commission. The St. Louis Mercantile Library was chosen to exhibit by the Airport's seven-member Airport Art Advisory Committee.  Current members are Lisa Cakmak, Associate Curator of Ancient Art at Saint Louis Art Museum; Ellen Gale, Executive Director Clayton Chamber of Commerce; Shelley Hagen, Corporate Art Resources at Wells Fargo; Leslie Markle, Curator of Public Art, Mildred Lane Kemper Art Museum; Kiku Obata, Founding Principal of Kiku Obata & Co.; Roseann Weiss, consultant with ART+; and design artist and illustrator Carlos Zamora.  
The Lambert Art and Culture Program builds upon the culturally rich legacy of St. Louis Lambert International Airport. The mission is to elevate the visitor experience and uplift regional pride through the presentation of artwork created by local, national, and international artists. Currently, there are nearly 30 works of art or collections of art (temporary, permanent or on-loan) on view at the Airport. For more information, visit www.artoftravelstl.com.
For more information on The St. Louis Mercantile Library visit www.umsl.edu/mercantile.
Contact Information:


Jeff Lea
Public Relations Manager
Office Phone: (314) 426-8125
Mobile Phone: (314) 795-2235

Department:


St. Louis Lambert International Airport