This article is 6 years old. It was published on February 4, 2016.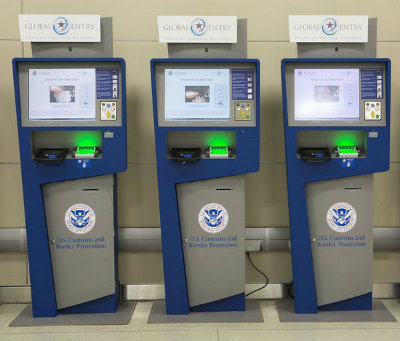 ST. LOUIS - Expedited security clearance through U.S. airports for St. Louis travelers just got easier with the announcement by U.S. Customs and Border Protection (CBP) that a new Global Entry Enrollment Center has opened at Lambert-St. Louis International Airport.  This Enrollment Center is for processing applicants for CBP's trusted traveler programs, such as Global Entry, NEXUS and SENTRI. The trusted traveler programs allow expedited clearance for pre-approved, low-risk travelers upon arrival in the United States. It is the first Global Entry Enrollment Center in Missouri.
"We are pleased to open a Global Entry Enrollment Center in St. Louis for those hoping to join the ranks of trusted traveler," said Area Port Director Joseph Lanzante. "The new enrollment center provides a convenient, local center for people to complete their application process."
The St. Louis enrollment center is now open Monday, Wednesday, and Friday from 8 a.m. to 11 p.m.in Terminal 2, via the International Arrivals entrance (Door 16).  Interested travelers must first apply online through the CBP's Global Online Enrollment System.Once the application is filed, the program will offer available appointment times for applicants to visit Lambert's enrollment center for an in-person interview. Applicants should park in the Terminal 2 Garage. They can also park in the Terminal 1 Garage and take a free shuttle to Terminal 2.
"A Global Entry enrollment center in St. Louis is one of the biggest demands we've had from our business and global travelers over the last couple of years," said Lambert Director Rhonda Hamm-Niebruegge. "Now, St. Louis applicants no longer have to travel to other cities to finish the enrollment process."
Upon arrival in the United States from abroad, Global Entry members are able to bypass the traditional CBP inspection lines and use an automated kiosk. Travelers scan their passport and fingerprints, answer customs declaration questions using the kiosk's touch screen and proceed with a receipt to the exit—the whole process takes only about one minute.
Global Entry has expanded to 52 locations, including 11 international preclearance locations. These locations serve 99 percent of incoming travelers to the United States. U.S. citizens enrolled in Global Entry automatically become eligible for benefits of TSA Pre✓™for domestic travel. Travelers interested in enrolling in one of CBP's trusted traveler programs can learn more about the programs at www.CBP.gov.
Department:


St. Louis Lambert International Airport


Topic:


Airports