About Board Bills
How a Board Bill Becomes and Ordinance. Follow the process of how a Bill becomes an Ordinance and is adopted into the City Revised Code.
How a Board Bill Becomes An Ordinance
Legislation is introduced by Aldermen in the form of bills. The mayor may introduce bills or cause them to be introduced by requesting the chairmen of specific committees to sponsor such a bill. Bills are read before the entire Board upon introduction. After the first reading the bill is sent to specific standing committee for study and recommendation. The committee, after considering the bill, reports it back to the full Board for a second reading.
It may be referred back to committee for some reason or it may be put on the informal calendar. It is possible, however, to suspend the rules so that a Bill may be read for a third time and passed in the same meeting. If the Bill is delayed in committee or elsewhere it eventually will be read a third time being either passed or defeated.
Approval by a simple majority of fifteen or more is required for passage except for those dealing with the sale of any of the City's real estate or for the discontinuance or establishment of administrative divisions which require a two-thirds or 20 vote. The Mayor may sign or veto a bill within 10 to 20 days after it is presented to him. If he or she does not take action, the bill automatically becomes law. A two-thirds majority is required to over-ride a mayoral veto. Unless the measure is an emergency it does not take effect until 30 days after the Mayor signs the bill or it is adopted over his veto.
After a bill is adopted by the Board of Aldermen and signed by the mayor it becomes a City Ordinance. St. Louis City Ordinances are available in electronic format cover 1991 - present.

The Life Cycle of a Board Bill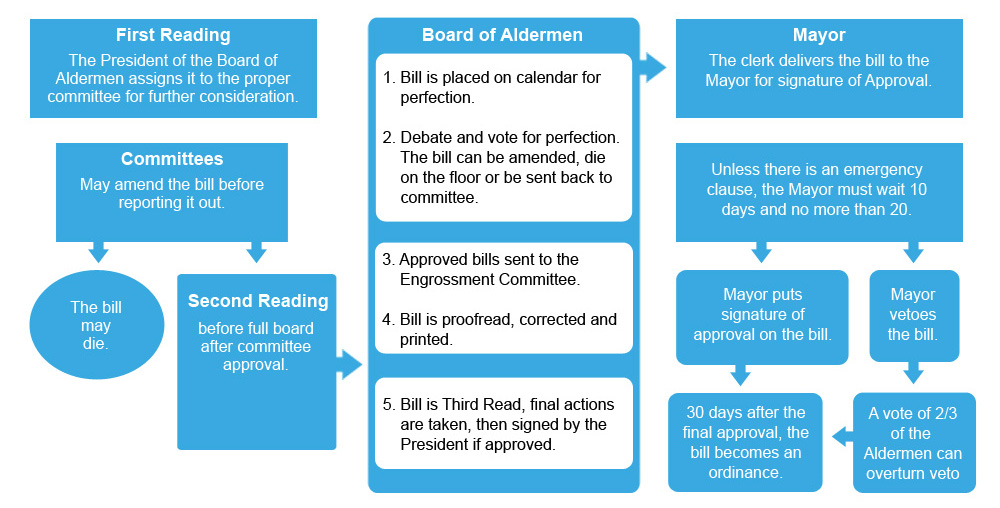 Browse Board Bills by Session
Error in custom script module