Cabanne
---
Hospitals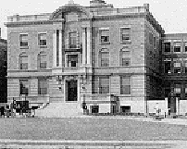 A group of Episcopalians interested in founding a hospital under direction of their faith held a meeting in the old Mercantile Library hall late in 1865. Subsequently, with the approval of Bishop Hawks, St. Luke's Hospital Association was organized and a hospital was opened at what is now 13th and Lami Streets in 1866. During the cholera epidemic of 1867, the infirmary was opened to the general public. Plagued by financial problems, the new hospital later moved to a more central location at Sixth and Elm Streets in 1870. Three years later it moved again to a building on Pine Street west of Ninth and in 1874, when free of debt, plans were made to obtain a permanent structure for the institution. A lot on the northeast corner of Washington Avenue and 19th Street was donated by Henry Shaw and a $41,000 building designed by Barnett and Taylor was dedicated there on May 28, 1882. St. Luke's Hospital was under the management of the Sisters of the Good Shepherd from 1872 to 1899, when the training school for nurses began. The hospital occupied the first buildings on its present site at 5535 Delmar Boulevard on April 23, 1904, with subsequent additions being constructed as needs required. Extensive plans for expansion were prepared after the Presbyterians decided to join the Episcopal church in supporting the hospital, instead of building one of their own. Beginning in 1951, newer and larger sections have been added, completely changing the appearance with a new facade on Delmar in 1969. Among the new facilities are a new nurse's home and school in 1959, and an adjoining medical office building in 1964. A new facility in St. Louis County, St. L5uke's West, has recently been opened.
A short distance east of St. Luke's on Delmar is the Masonic Home of Missouri, an institution for the elderly and homeless children, supported by Missouri Masonry. It has been located at 5351 Delmar since 1889; however, the oldest of its present buildings dates from 1914. The western portion of its site was the location of the Jewish Hospital, at 5415 Delmar from 1902 to 1927 when it moved to 216 South Kingshighway. Since acquisition of that property, the Masons have erected several structures for expansion of the Home, the latest building, a residential hall, was finished 'n 1959.
On Page Boulevard about one block west of Union was a large red brick Tudor Gothic style structure that was occupied by St. Anne's Home from 1904 to 1975. Originally, a maternity hospital and foundling asylum, it was operated as a home for aged women in later years. Recently it relocated at 12349 DePaul Drive in St. Louis County. The old building has been razed.
At 5235 Page is a building now occupied by the Day Care Center which was originally the Blind Girls' Home built in 1909. This institution for indigent blind women was founded by James E. Yeatman, a 19th century St. Louis philanthropist.
On the southeast corner of Union and Enright is the former Y.M.H.A. building completed in 1927 for the youth organization that was previously located at 3645 Delmar. This building by Charles Yalem to the City in 1963 for use as a community activity center. It also houses the Seventh District Police station, which was located for many years at Page and Union. The Y.M.H.A. has moved to the new Jewish Center on Schuetz Road in the County. In the block to the north is the former home of the St. Louis Artist's Guild designed in 1908 by architect Louis C. Spiering. The Guild, which dates back to 1886, recently moved to Webster Groves. Its old building is now occupied by Dignity House, a U.C.C. church sponsored neighborhood art center. Another prominent community asset is the Cabanne Branch public library on the northeast corner of Union Boulevard and Cabanne Avenue, which was opened in 1908.
A well known meeting place in the area for many years was the Rose Hill Masonic Hall on the northwest corner of Hamilton and Maple Avenues. Built in the early 1890's, the structure has been razed in recent years.
---
Image - St. Luke's Hospital at 5535 Delmar Blvd. as it appeared in 1905
Image - Old Jewish Hospital at 5415 Delmar in 1902
Image - Former Y.M.H.A. Building at Union and Enright
Image - Former home of the Stl. Louis Artists' Guild on Union Boulevard
Image - Cabanne Branch Public Library
---